Buying cars from dealers: Experience and benefits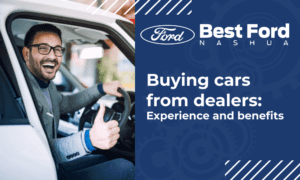 Best Ford in Nashua, NH
Buying your car from dealers is an experience that offers you comfort and security when it comes to getting the best vehicle that adapts to your needs. The guarantee you get when you buy your car directly from a dealership is exceptional, because you get certain benefits that you wouldn't get otherwise.
The experience of buying your car from dealers assures you the support of the automotive brands, as well as the guarantee that your car will not have any legal or juridical problems. At the same time, the dealership offers you total security in everything related to the mechanics and aesthetics of your car, so you can be sure that the dealership will have made a series of revisions that certify the good condition of the vehicle.
Likewise, buying your vehicle at a dealership assures you the personalized attention you deserve, in such a way that you will be attended by people specialized in the field of vehicles who will be able to provide important information that will help you buy the vehicle that best adapts to your needs.
Learn about the inventory of vehicles available at our Best Ford dealership in Nashua NH