Welcome to Best Ford Lincoln
Welcome to Best Ford, New Hampshire's Premier Ford Dealership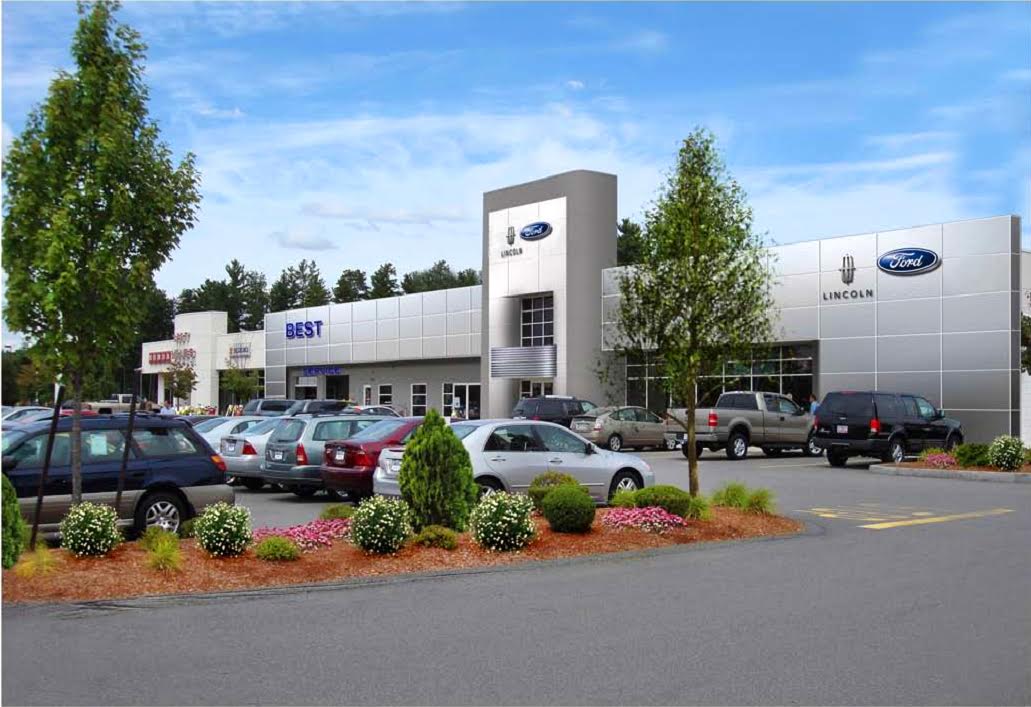 When you visit Best Ford, the first things you will notice are the huge lineups of new and pre-owned vehicles encircling our dealership. Clearly, we have an excellent selection of Ford cars, trucks, and SUVs for sale here in Nashua. And, in fact, it is this extensive inventory that enables us to serve such a large region of New Hampshire that includes Nashua, Litchfield, Hollis, Merrimack, and Pelham. Upon entering our showroom, you will likely catch a glimpse of the certified technicians who work in our service center and run our parts department. Probably, you will also observe a few of the dedicated staff in our finance center, working hard, as usual, to provide our customers with for Ford leases and loans. Something else you will not fail to pick up about Best Ford is how friendly everyone who works here is. But we have learned in our many successful years in business that being a great dealership means having both resources and customer service. We have both here.
From Speedy Sports Cars to Family Friendly SUVs to Rugged Pickups, Our Nashua Ford Dealership Has Got What You're Looking For
You will find around 250 new Ford models in stock at Best Ford at any given time. Us having such an impressive new vehicle inventory should imply two things to you. First is that we pride ourselves on offering a diverse selection of new Ford cars, trucks, and SUVs that can suit the needs of our many customers. Second is that we focus on keeping full lineups of our most popular models in stock as well as offering you different trim levels and paint-color options for these vehicles. SUV shoppers, for example, will be impressed by the huge selection of Explorer, Escape, and Edge models we carry. The same can be said for truck buyers regarding the large variety of F-150 and F-250 SD pickups we sell. Of course, car shoppers are not left out, for we carry numerous trims of the Fusion and Focus, in addition to many other available models.
Nashua Drivers Looking for a Budget Friendly Alternative Consider a Quality Used Car from Our Dealership
Maybe you are on a budget and want to save money. Maybe you do not drive often enough to justify buying a new vehicle. Whatever your reasons for going used car shopping are, the place where you can find your ideal pre-owned vehicle is likely right here in Nashua. With an assortment of makes and models of used vehicles for sale, our used inventory is among the best you will find in this area. We also do a 145-point inspection and offer a warranty on every used car we sell, making us a reliable dealer to buy from. However, if a used car is not what you had in mind, but a new model is still out of your price range, consider our certified pre-owned Ford inventory. Our CPO Fords are all recent models with light amounts of previous use and low mileage.
Apply Online to See if You Qualify for a Lease or Loan with Best Ford
Having a great finance center is essential for a car dealer that wants to help its customers obtain great deals on new and used car purchases or new car leases. At Best Ford, we have made our finance center into a powerful resource for customers like you. With a knowledgeable staff and a network of relationships with lenders, we have a comprehensive selection of Ford financing options to offer you, including Ford lease offers plus new and used car loans. We have also sped up the process to obtain a car loan by having an online finance application that can get you pre-qualified for credit before you step foot on our dealership lot. Meanwhile, for additional opportunities to save even more money on your vehicle purchase or lease, be sure to inquire about all ongoing finance specials.
Our State-of-the-Art Service Center is Your Go-to Destination for all of Your Car Repair and Maintenance Needs in Nashua
Given the drastic changes in weather that occur in New Hampshire throughout the year, it is important to stay up to date with your vehicle's maintenance schedule. General service like oil and filter changes or seasonal maintenance like flushing out the radiator are both critical to ensuring your car stays on the road driving strong for longer. Have you ever had your car battery die in the middle of a New Hampshire snowstorm? Come to our service center for maintenance, use our parts department to order new parts and accessories when necessary, and make sure you avoid preventable car-related troubles. And remember, we work expertly but quickly, too, so you can schedule an appointment for your car, enjoy our comfortable lounge area, and be back on the road in no time.
Now that you are aware of all of the major resources we offer, services we provide, and areas we serve at Best Ford, we invite you next to contact or visit us at 579 Amherst Street in Nashua, NH, so that we can start helping you find solutions to your automotive needs. After all, since we are located in Nashua, our dealership is convenient for New Hampshire drivers throughout the Litchfield, Hollis, Merrimack, and Pelham areas. So, given our large inventory of new and used vehicles for sale, excellent financing options, skilled mechanics, and friendly customer service, what can we at Best Ford do for you today?
Best Sales. Best Service. Best Selection. Often imitated, never duplicated. There's only one BEST!