BEST Price Guarantee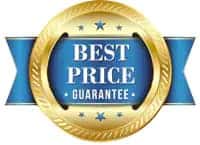 Give Best Ford the opportunity to beat the other dealer's offer, we must have a comparable unit in-stock (model and MSRP). You will also need to bring with you proof of their current advertised price to take advantage of this offer which can be a print out you received directly from the competitor with the total cost to purchase the vehicle, an advertised offer (print or web, fine print must be included) or an email promotion that is viewable on your phone.

Terms and Conditions:
Competitor offer must be current, cannot be expired.
Customer must pay for non-factory installed equipment.
Eligible incentives will be evidenced by FMC VIN look-up (zip code specific) and customer must qualify for incentives.
A, D, X, Z Plans are not eligible.
Taxes, tags and dealer fees will be additional.
Excluded Vehicles:
Excluded Vehicles:
Demos
VIN Exclusive
Invoice Credited Units
Event / Auto Show Units
Catastrophe Damaged (Hail, Flood, Etc)
Specialty Vehicles (ex. Harley Davidson, Raptor, GT500, Limited Edition Vehicles)
In-Stock New Vehicles Only
Price matching is available on in stock new vehicles only. Demonstrators, damaged vehicles (hail,etc.) or competitive ads listing "one at this price" do not qualify. Ad must be from a Ford Dealer within a 50 Mile Radius We will price match against local competitors within a 50 mile radius of the dealership as manufacturer incentives can sometimes vary in different states and/or regions.
MSRP
We will price match on vehicles of the same make and model with the same MSRP (manufacturer's suggested retail price). Adjustments can be made for variances in equipment. We will also make allowances for slight differences in equipment.
No Bundled Offer Matches
We will not price match on bundled offers. This includes, but is not limited to, instances where a customer is forced to accept a competitive dealer's in house financing in order to receive a special price. Without a complete rate disclosure, it is impossible to determine what the competitive offer is. We believe in a straightforward low price unfortunately not all of our competitors work the same way.
What is Advertised Prices?
We will price match competitive newspaper ads, dealership internet offers, or copies thereof.
Verifying Pricing Accuracy
We reserve the right to verify pricing accuracy and availability of competitive ads for errors and omissions. Occasionally a competitor or media source will make a pricing error, which falls outside our price match policy. Price match Plus guarantee is Valid for date of purchase only. If Best Ford does not beat the other dealer's offer by $250, customer must purchase from the offering dealer the subject unit (same vin#., components, and price / terms) within 5 days of Best Ford's rejection at the terms and price of the legitimate offer. Customer to provide the other dealer's fully signed purchase order with matching VIN#, the odometer statement, and the registration statement in the customer's name to receive $250.00. Such paperwork must be submitted to Best Ford within 10 days of purchase from the other dealer. Changes by the other Ford dealer in vehicle, selling price, or terms negates guarantee. Offers by other dealers after purchase of a vehicle from Best Ford do not apply. Dealer's price that includes rebates must be applicable to customer. (College graduate, AQHA, Military, etc.) Price guarantee on other Dealer's in stock new, unregistered, undamaged, and non demonstrator vehicles only. Vehicles with in excess of 250 miles will be considered demonstrators. If Best Ford agrees to beat the legitimate and verified offer by $250 subject to finance approval on conditions acceptable to the customer, and if the financial institution to which the installment contract is to be assigned does not approve the financing, Best Ford is not obligated to pay $250 even if the other dealer subsequently does obtain finance approval on the same or different installment terms. Applies to retail sales only, not fleet, and applies to one vehicle/offer per customer.
Best Ford Price match guarantee does not apply to trade vehicles.
Mon - Fri

9:00 AM - 7:00 PM

Sat

9:00 AM - 6:00 PM

Sun

11:00 AM - 5:00 PM
Mon - Thu

7:00 AM - 6:30 PM

Fri

7:00 AM - 6:00 PM

Sat

8:00 AM - 5:00 PM

Sun

Closed
Mon - Fri

7:00 AM - 6:00 PM

Sat

8:00 AM - 5:00 PM

Sun

Closed