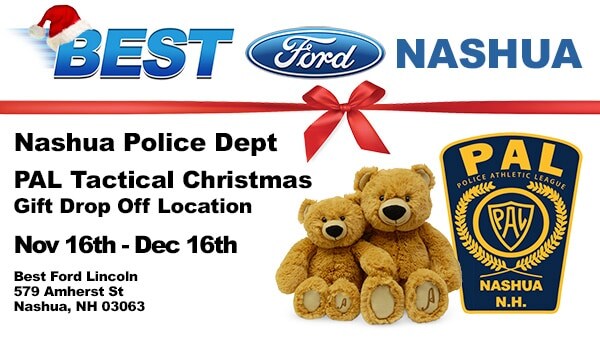 NEEDED: NEW / UNWRAPPED TOYS, WARM CLOTHES, ART SUPPLIES, BOOKS AND OTHER HOLIDAY GIFTS FOR NASHUA POLICE DEPARTMENT
This year BEST Ford Lincoln is hosting a gift drive to help Nashua's own PAL Tactical Christmas. Please join us in helping our Nashua PD and our local community.
Nashua Police Athletic League has a mission to create a positive attitude between the children of Nashua and the members of the Nashua Police Department through sponsored sports, activities and enrichment programs.
The Nashua Police SWAT team is going out for a full day, with Santa, to deliver a nice holiday meal and toys for the kids. These families would otherwise have no other way of providing holiday cheer to their kids.
Last year, BEST Ford Lincoln filled an entire F-150 truck full of new and unwrapped toys donated by members of the community and our employees. With your help this year our goal is to fill two full trucks with new and unwrapped toys, warm clothing, books and art supplies.
When you drop off in our show room, please grab a coupon to take $5 off your Works™ ($49.95) Oil Change package in our Quick Lane
To learn more about Nashua PAL and the Tactical Christmas, please visit the Nashua PD website at http://www.nashuapd.com and the Nashua Pal website at http://www.nashuapal.com
For more information on this program please contact either